Greenvalley LiBase Rover Set Product Review
The Greenvalley LiBase receiver
The LiBase is a great GNSS receiver with 965 channels, 60-degree tilt compensation and centimeter level accuracy.
Channels

965

IMU Tilt Sensor
60

°

Internet Modem

4G

UHF Radio
410 – 470MHz
GPS

L1, L2C, L2P, L5

GLONASS

G1C, G2C, G1P, G2P

GALILEO

E1, E5A, E5B

BEIDOU

B1I, B2I, B3I,

B2A,
Measure directly into your coordinate system with the FieldGenius Software
With field genius you can Measurement and layout in your coordinate system. With its many features, FieldGenius is one of the most advanced software packages on the market that is, however, very user-friendly! Export your data directly from the software to the CAD or GIS package. It supports files as .DXF .CSV . TXT .SHP and many more!
Fully intergrated software LiSurvey

With software made from the same brand as the receivers and data collector, you just now everything will work smoothly and well. An all-in-one software that's makes your surveying work feel like a walk in the park. With so many survey options no job will be to difficult for LiSurvey.
Greenvalley LP-1 Data collector
The Greenvalley LP-1 is a really strong IP67 grade data collector. With its 5-inch touch screen, 720*1280 resolution and a screen that has clear visibility under sunlight this controller is a go-to for every surveyor in every condition. It has a build-in 7000mAh battery and is fully charged in less than 4 hours.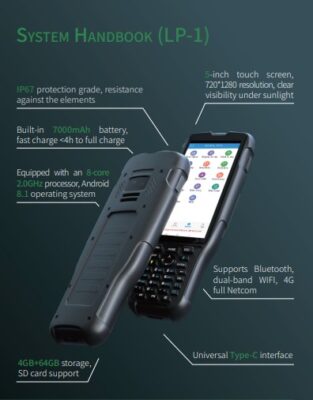 GPS Survey pole
Make it easy to carry by mounting everything on a GPS Survey Pole. Recommended length is over 2 metres to minimise interference to your GNSS receiver and improve performance.
Data collector bracket
This is needed to ensure that your data collector stays firmly in place. It prevents it from being damaged unnecessarily and you don't have to hold it in your hand all day.