South Galaxy G3 Product Review
Supercharged by SoC technology
Galaxy G3 is a new product from SOUTH SoC platform, most components of G3 (GNSS module, Wi-Fi, Bluetooth, etc.) are integrated on one circuit board. G3 has lower power consumption, and efficiently improves the ability of receiving higher quality satellites signals. Powerd by the new SoC GNSS board, new generationsensitivity satellite antenna, new ROS platform and GNSS RTK engine, G3 can fully track GPS, GLONASS, BDS, GALILEO and QZSS toobtain centimeter-level positioning in few seconds. Now G3 supports the BeiDou-3 B2b L-band BDS-PPP corrections to get real-time centimeter level positioning services. Thanks to the new function "RTK Keep", now it ispossible for G3 to keep centimeter-level accuracy for few minutes when the RTK corrections is missing.
Ultimate goals of full signals tracking
Galaxy G3 adopts high and low frequency integrated antenna design, which using low profile design technology to reduce the physical difference between high and low frequency bands, improves phase center consistency.And the applied frequency selective radiation mechanism would enhance antenna anti-interference ability.And combines with high performance GNSS board, G3 fully supports all of running satellite constellations, especially BeiDou III global satellite signals.
The fact moving ahead into the future
Galaxy G3 is integrated with an advanced SoC which is a chip that comes with the advantage of high integration and low power consumption, efficiently suppress the interference signals, and obtain higher quality observation data from satellite constellations. G3 will bring a leap-forward experience of RTK performance.
Worry-free surveying
The new generation of SoC platform gives RTK more stable performance and lower power consumption. The built-in 6800mAh high-performance battery can support 15 hours* of continuous operation. G3 adopts Type-C charging interface which supports PD rapid charging, the battery can be full charged in 3 hours that supports full-day work.
Measure whatever you want
Galaxy G3 is integrated with a new generation Inertial Measurement Unit which makes tilt measurement more stable and accurate, the coordinates would be corrected automatically according to the inclination direction and angle of the pole, without strict leveling the receiver to measure the point at will, it helps surveyors boost productivity by 30 percent.
Smart reminder of base station attitude
the South Galaxy G3 has a Built-in high-precision tilt attitude module which associates with receiver attitude, when the base station moves or falls, it can accurately distinguish and promptly remind.
 Longer Battery Life
Thanks to the SOC technology, G3 achives higher performance and lower power consumption. The built-in 6800mAh Li-ion battery can continuously work 15 hours(Rover Bluetooth mode). G3 adopts Type-C charging interface which supports PD protocol quickly charging, the battery can be fully charged in 3 hours and then supports full-day work. Now G3 also supports the external phone portable battery, to continue the work even internal battery is used.

IMU fo
r Tilt Survey
Galaxy G3 is intergrated with the latest Inertial Measurement Unit (IMU). Featured with anti-magnetic chracteristic, you can start the tilt survey in any place. Shaking to initialize the IMU sensor, no need to calibrate. Up to 200Hz IMU data output rate, boosting the speed of field work.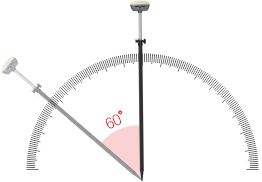 Super Radio and Farlink Protocol
Galaxy G3 is packaged with SOUTH "Beaver" super radio and the exclusive "Farlink" protocol. The "Beaver" super radio is more power saving, "Farlink" protocol has larger bandwidth. The combination of "Beaver" super radio and "Farlink" protocol makes better performance on signal capturing.
Lighter and Faster
Only 790g in weight, G3 is still packaged with the magnesium alloy shell. Highly intergrated design, smaller and lighter, easy to use in the field.